---
...more
---
Just 2.5 hours west of Milwaukee lies this agricultural, artsy belt—welcome to the Driftless Region.
Spring Green (pop. 1,628) has earned its designation as one of Wisconsin's most eclectic communities. Tucked into the Driftless Region's eastern edge — an agricultural area organic farmers flock to for its fertile soil—it's easy to squeeze a lot of fun into a weekend. Spring Green is also the region's culinary and cultural capital.

Here's your weekend itinerary:....
...more

Ken Notes: We agree and a great read!!!
---
MOUNT HOREB (WKOW) -- It`s opening day for Wisconsin`s newest cultural and historical museum in Mount Horeb.
The Driftless Historium museum shows off the history and culture of the area, including the historic building for the museum on S. 2nd Street. The village has spent nearly a decade putting this together.
The museum director says the village`s history shares a common thread with many others, offering something for everyone to explore.
"We are very happy to be contributing to Mount Horeb`s development," says Destinee Udelhoven. "It`s a very happening place right now and we are happy to be contributing to the atmosphere of vitality and growth."...
...more
---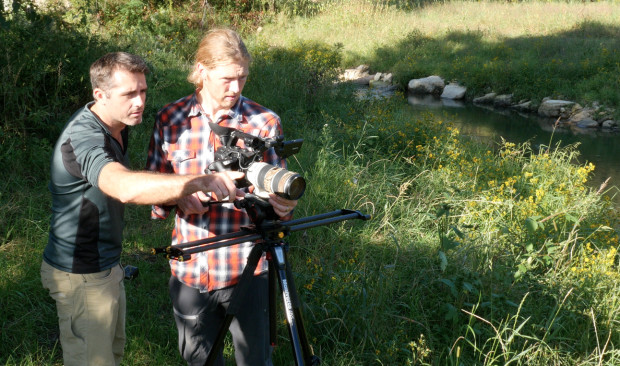 A film crew will be in Decorah tomorrow to film near Coldwater Cave for the upcoming film, "Decoding the Driftless."

Emmy Award-winning filmmakers, Rob Nelson of Untamed Science, Inc. and George Howe and Tim Jacobson of Sustainable Driftless, Inc. have teamed up with Swedish filmmaker Jonas Stenstrom to make the film a reality. World-renowned and six-time Emmy winning wildlife cinematographer Neil Rettig is also part of the creative team.

Leading experts and scientists within the Driftless Region will reveal their passion and discoveries that shed new light on how this region formed and evolved. They also ponder some still-unanswered mysteries that have puzzled researchers for decades. These scientists also reveal major threats to the rare species that live here...

....
"We want to make sure this place is taken care of for our kids to enjoy as we have. We want to decode the Driftless for you, your family, your friends, and future generations."

-- "Decoding the Driftless" creative team
...more
---
A natural history documentary about the Driftless Region called "Decoding the Driftless" has gotten its second wind with the coming of the summer season and has been filming in the Prairie du Chien area in recent weeks.
In fact, members of the international film crew from the production company Untamed Science came to the Bagley area several days ago in search of an algific talus slope. Algific talus slopes comprise a very rare, fragile ecosystem and habitat initially thought to exist only in the Driftless Region. In summer, the cooler talus-covered slopes power an air exchange with sinkholes atop a ridge, with warm air entering the sinkhole to an ice cave. The air is cooled and vented on the algific slope. The northern monkshood is a threatened wildflower in the buttercup family (Ranunculaceae) and is one species that needs the cooler temperatures of an algific talus slope.
The search for the cool air vent of the algific talus slope became an arduous hike up and along a bluff on a hot, muggy day through dense forest and foliage as crew members lugged cameras and other heavy equipment. After several hours, the site was found on a second bluff. The footage the crew filmed was well-earned indeed.
The film crew included producer Tim Jacobson, Rob Nelson, Jonas Stenstrom, and on air personality and producer George Howe.....
...more
---
Advocates Say Line Would Be Good For Wind, But Critics Question Need
A proposed transmission line that would span from southeast Iowa to Middleton has environmental activists split.
Despite being in the planning stages, the Cardinal-Hickory Creek Transmission Line has emerged as a divisive issue in the region. While the exact route hasn't been finalized, the line would crisscross the Driftless Region of Wisconsin, with the intent of connecting wind farms in the area to the power grid.
Advocates for the project, which would cost an estimated $500 million, say it's needed to boost the flow of clean energy....
...more

Ken Notes: I have a win win Idea, Add a trail near or beneath the line with camping and recreational outlets for biking or hiking the Driftless. The only bad view would be straight up...
---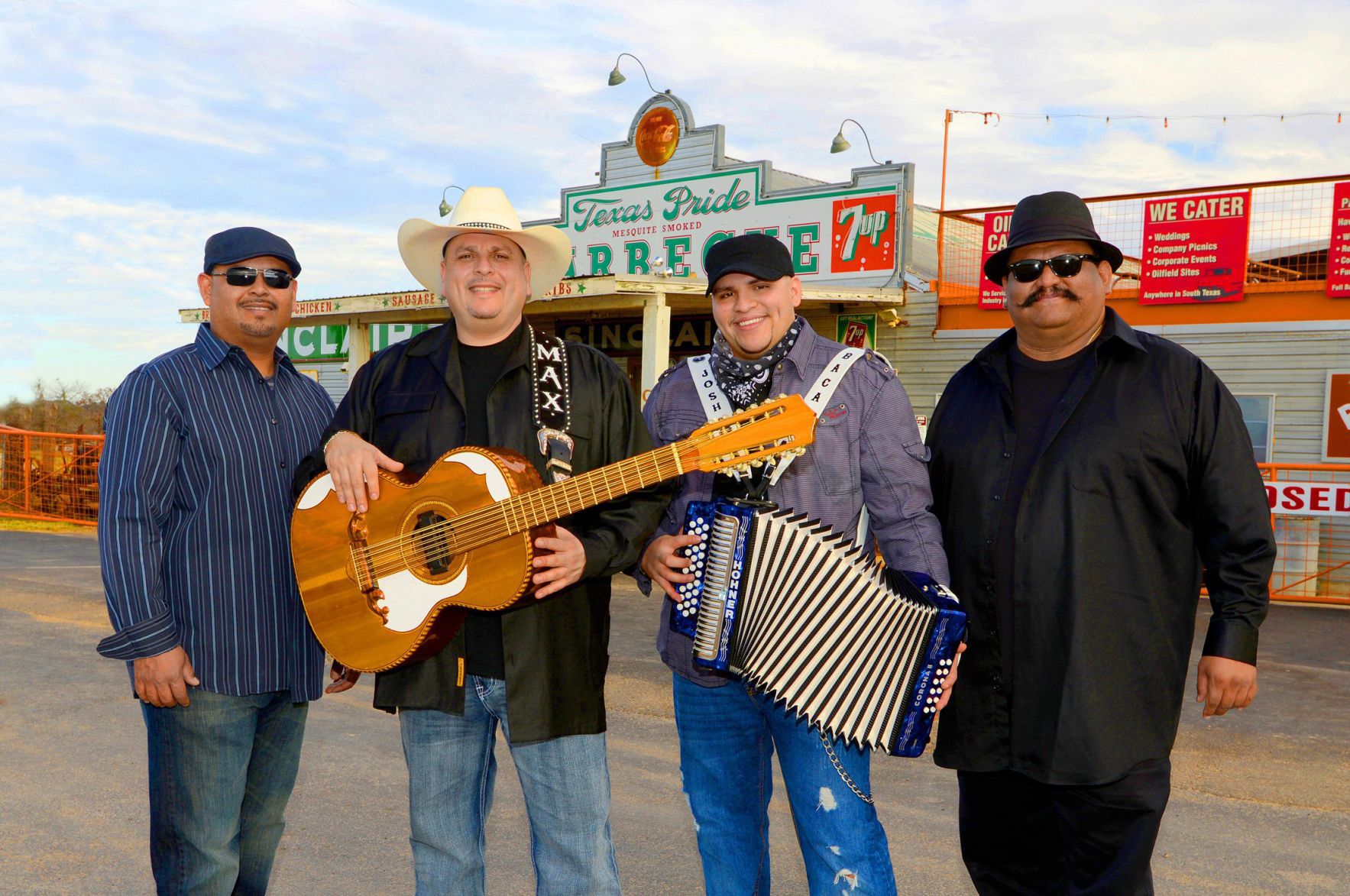 The sounds of a variety of music will once again fill Viroqua's Eckhart Park during the Driftless Music Festival, Saturday, July 8.
The grounds of Eckhart Park will open at noon, when an open-air food court will feature regional vendors ready to serve up their specialties, including wood-fired pizza, sweet and savory crepes, Jamaican chicken and pork, meat and vegetarian tacos, dipped roast beef sandwiches, fresh green salads and fest-favorite hamburgers, hot dogs and brats. Desserts will include strawberry shortcake and smoothies, French pastries, baklava, ice cream bars and gluten-free brownies....
...more
---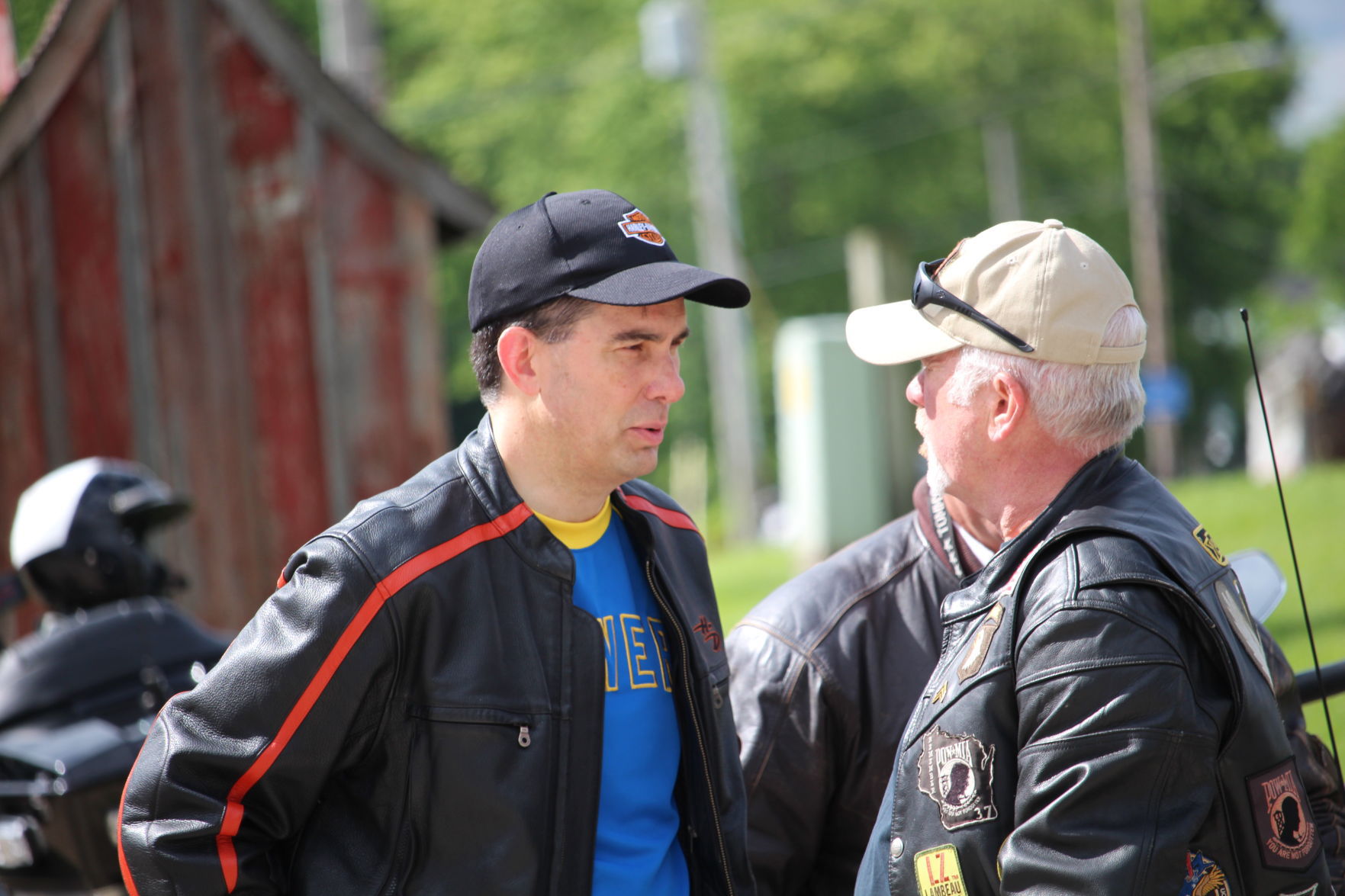 Led by a procession of state troopers and a black SUV, the governor refueled his motorcycle in Westby during a road tour of the state.
Gov. Scott Walker was among about 60 motorcyclists who partook in last weekend's two-day trek that traipsed through Vernon County.
The two-day ride aimed to promote tourism throughout Wisconsin by stopping at destinations along the way, Walker said Saturday outside the Mobil Gas Station. Riders spent the weekend on the road with the governor – Saturday night in Chippewa Falls, Walker said, and on Sunday the tour wrapped up at Circus World in Baraboo....
...more
---
Sponsors

...more
---
Prairie du Chien
June 23, 2017
RVI has completed Phase 1 of the overall multi-million dollar Lawler Lofts project by securing Commonwealth Development to develop the 40 unit apartments and save the former St. mary's/Wyalusing Academy historic building. The building will begin its next phase as apartments with construction starting this August by Commonwealth Development Corporation of America.
Phase 2 of the project will begin with the re-development of the mechanical building, and planning of the surrounding land adjacent to the former main building The 9 acres of land is positioned along Main Street and parallel with the Mississippi River.
RVI's ongoing mission and activities include stabilizing neighborhoods by strategically developing troubled housing and structures that can be saved and re
?-?purposed. RVI has expertise in working with tax credits, other programs, and communities to make difficult projects possible.
This strategy helps rural communities who typically have lower rents or property values but pay much the same in material costs as urban areas. This helps preserve a sense of place, develop new and desirable homes in older neighborhoods, and provides upgraded housing attracting further investment and improved tax base.
With the completion of the Lawler Lofts project, RVI will have secured and redeveloped over 70 housing units for the benefit of Southwest Wisconsin communities. Estimated increased tax base to communities from this work is over $14 million dollars...
...more
---
The Mount Horeb Area Historical Society Museum was recently reopened as Driftless Historium, an expanded cultural center focused on the history of Mount Horeb and the entire Driftless region. Mount Horeb...


Opening its doors for the first time this summer is the Black Earth Children's Museum. Black Earth...


And don't forget about the National Mustard Museum. If you haven't already, check out this ultra-quirky collection of more than 5,600 mustards. Middleton...
...more

Ken Notes: From an article about Madison Burbs...
---
Wisconsin –
-(
Ammoland.com
)- Have you seen the internet wireless commercial where the group of guys are headed down to the basement, to the man-cave with plans on watching the big game?...
...She-sheds are the small cottage-like structures that moms have built in the backyard. It is their sanctuary from the rest of the world and in many cases from the rest of the family. You can go into mom`s she-shed but only if you are invited....
...more

Ken Notes: I want one! We need to use Wisconsin`s campground rules to allow Chicagoan`s to come to the ares and build small cabins/micro homes for weekend escapes. These stick built units are all over TV and the internet -- yet in reality very few community, township, or county ordinances allow them to be built.

Imagine exponentially increasing tourism in the area while creating a new tax base with no impact on schools or public services. We could also use these "Developments" to forever preserve public lands, using TIF and development agreements or other creative financing. I would love to show your group, community, or organization how - just give me a call 608.334.2174....
---
The fifth annual Bike (or Bus) the Barns Driftless will take place Sunday, June 25. This charity event includes a full day of farm-fresh food and drinks, behind-the-scenes farm tours, kid-friendly activities, live music and Driftless views.
To celebrate the fifth year of connecting farmers and eaters through Bike the Barns Driftless, FairShare CSA Coalition is excited to offer a bus tour registration, as an alternative way to access the farm fun.
"We're offering a bus tour option this year so that everyone can experience the tasty food, educational farm tours, and farm activities, even if you aren't up for biking the challenging Driftless hills," said Erik Jones, executive director of FairShare CSA Coalition...
...more
---
The Bonneville Power Administration, a power marketing administration in the Pacific Northwest, just announced it will not build a previously proposed 80-mile, 500-kilovolt transmission line. Bonneville decided to take "a more flexible, scalable, and economically and operationally efficient approach" to managing the transmission system...
...I urge American Transmission Co. to take a similar approach as it evaluates the need for the proposed huge transmission line across the Driftless region. ATC can take a leadership position in creating innovative and flexible approaches to maintaining reliable and robust transmission service in Wisconsin....
...more

Ken Notes: Just an observation, the larger lines ATC is building or proposing are not just for Wisconsin, they are for the east coast and Midwest, Wisconsin is just in the middle....
---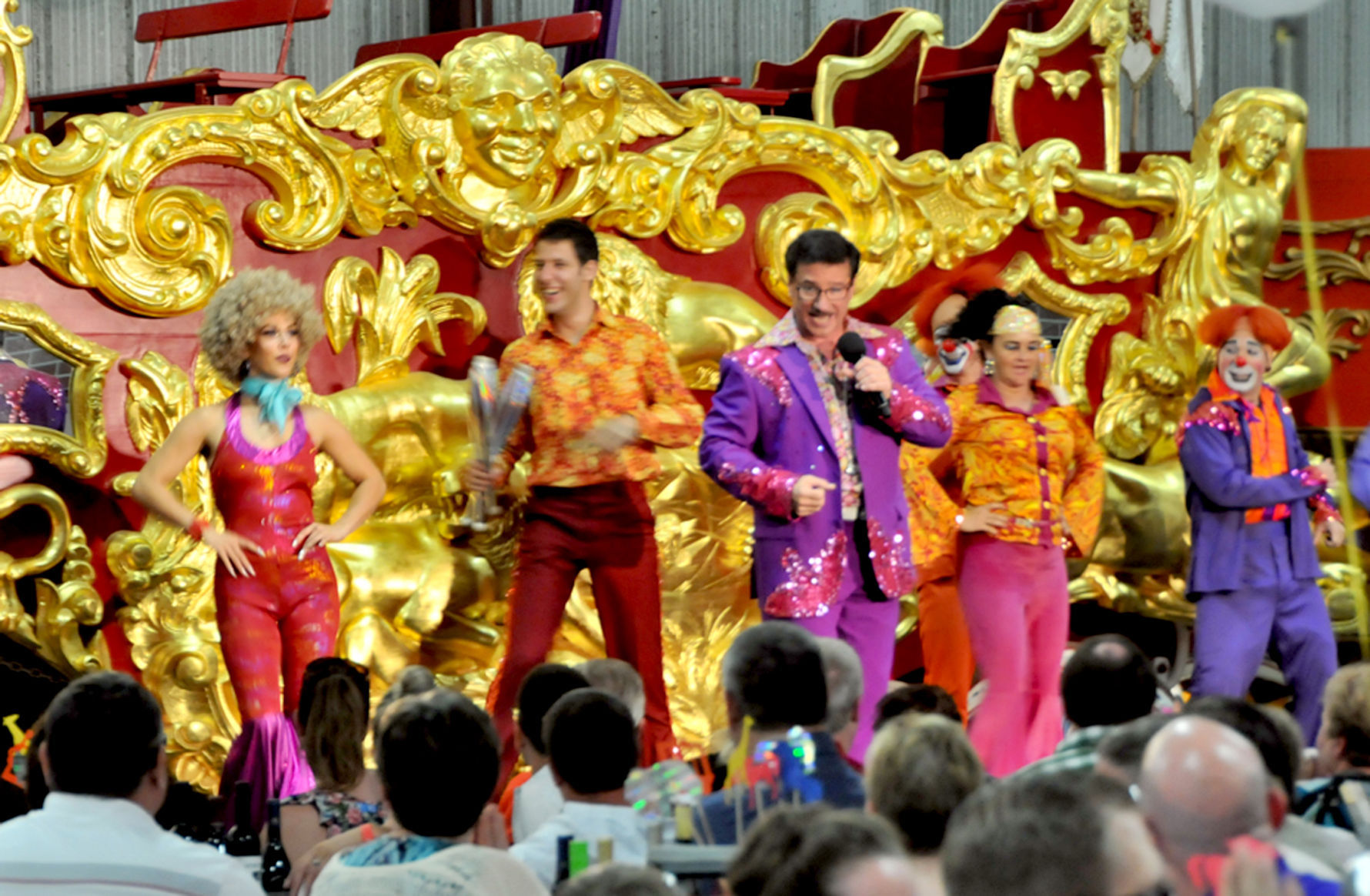 Rather than mourn the closing of the Ringling Brothers & Barnum and Bailey Circus, those attending Sunday's Circus of Chefs gala chose to celebrate Circus World Museum's increasingly important role in preserving the art form's legacy.
Hundreds of circus fans filled the W.W. Deppe Wagon Pavilion for the 14th annual gala. While sampling food and drink provided by Wisconsin restaurants, breweries and winemakers, attendees bid on auction items and enjoyed a 1970s-themed performance....
...more

Ken Notes: Wouldn`t it be cool if Feld established a permanent circus in Baraboo Wisconsin. People could come from all over the world to see the Greatest Show On Earth. Add media screens, Great sound, wonderfully cared for animals, limited engagements and visiting stars, the museum, theatre, and community.... Perfect.... I would also add a hall of fame for circus arts performers....
---
Jason Randall`s near perfect extraction of me from the baggage claim area at O`Hare was something to see.
I was at the curb a scant few minutes before he drove up, loaded my duffle bag and whisked me out to his farm near Woodstock, Ill. After a much needed afternoon nap, we headed out to his friend`s bass pond in the early evening. Catching bluegills and bass was a necessary restoration of sanity after flying the friendly skies. All of it was in preparation for our departure to Wisconsin`s Driftless Area the next morning.
Simply put, the Driftless Area is that portion of western Wisconsin, southeastern Minnesota and northeastern Iowa not covered by glaciers during the Last Glacial Maximum. Consequently, these areas escaped the deposition of terrain flattening till, also known as drift, that smoothed over the adjoining Midwest areas when the glaciers receded. The result is a hilly country dissected by narrow valleys...
...more
---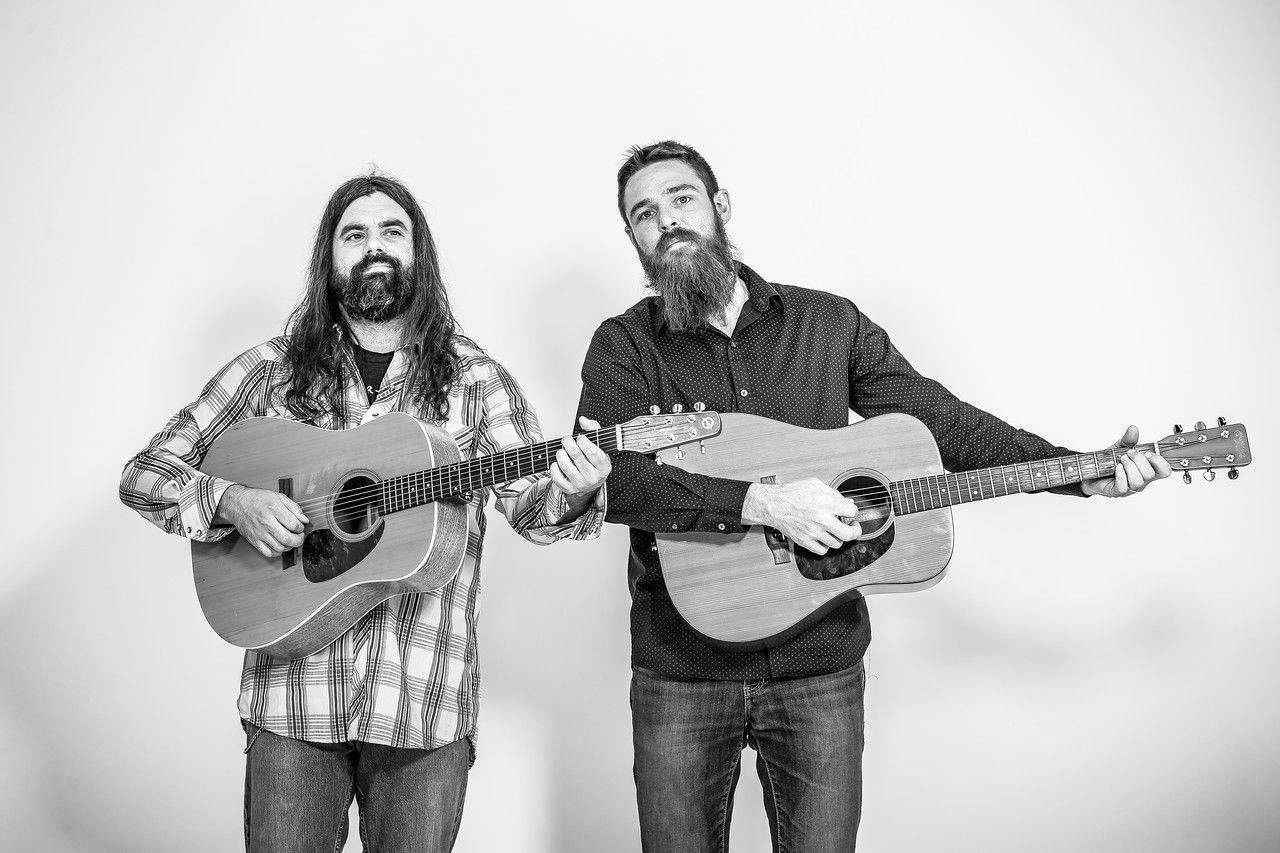 WHAT: CD release concerts for Andy Hughes and Gregg Hall and the Wrecking Ball
JUNE 28: 7 p.m. with Ted and Catherine Parrish opening the show at Driftless Books and Music, 518 Walnut St., Viroqua, $10 suggested donation
JUNE 29: 6:30 p.m. at The Court Above Main, 420 Main St, La Crosse, $15
Gregg "Cheech" Hall and Andy Hughes perform at not one but two upcoming CD release shows — one at Driftless Books and Music in Viroqua and the other at The Court Above Main in La Crosse.
The two musicians have known each other a very long time. "We've been friends since high school," Hall said. Although Hall went to Aquinas and Hughes to La Crosse Central, both had part-time jobs at the now-gone Quillins grocery store in the Village Shopping Center...
...more

Ken Notes: GREAT STORY!!!
---
Sponsors
...more

To have your logo appear weekly contact Julia
---
With their clean, horizontal lines and open floor plans, many Frank Lloyd Wright buildings still feel modern today — a testament to the ingenuity and staying power of America's most famous architect, born 150 years ago June 8....
...more
---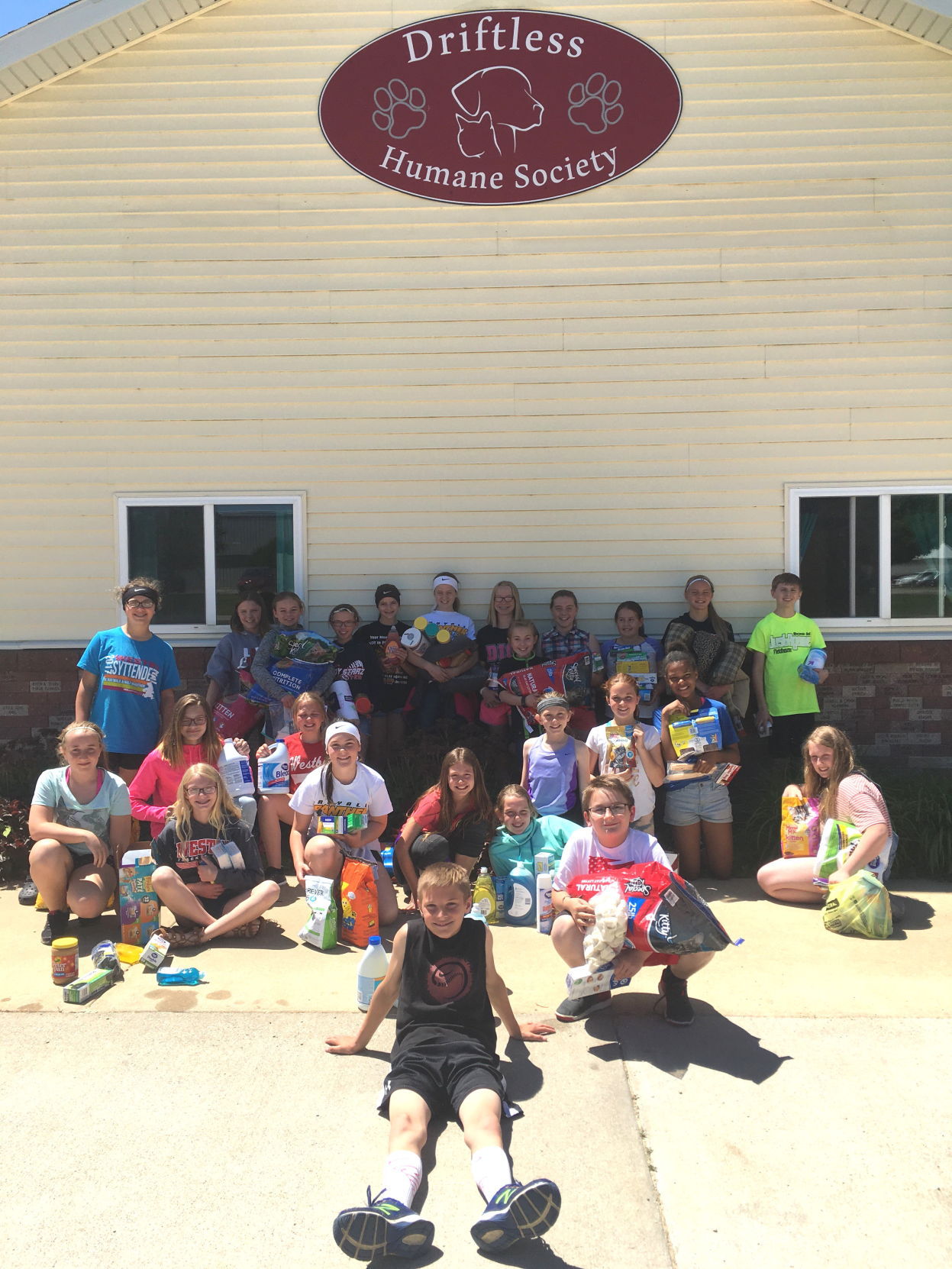 Westby Middle School fifth and sixth grade students took a trip to the Driftless Humane Society in Viroqua on Thursday, June 1.
The Westby Middle School Leadership Team brainstormed different options for their final service project of the year, with the humane society as the top choice. The group researched the organization and learned that the Driftless Humane Society operates on donations only and receives no governmental funding. So together the students and staff in the middle school teamed together to collect more than 100 items to donate for this great cause.
...more

Ken Notes: Cool!!
---
Explore mounds created by Native Americans along the mighty Mississippi River
As we stood amid a few acres of blooming wild blackberry vines a bumblebee buzzed between us. We'd just walked a few hundred yards up a narrow footpath and emerged into a sunlit meadow. The field looked ordinary, but there was magical feel to it.
"To best appreciate these special places, you should listen with your ears and with your soul," Albert LeBeau, had told us. He was right. As a National Park Service cultural resource manager at Effigy Mounds National Monument and a Lakota Tribe member, LeBeau knows. In the meadow's stillness was the presence of long ago people...
...more
---
For Frank Lloyd Wright`s 150th birthday, Curbed is celebrating the life and work of the legendary American architect who brought us the Prairie School movement. Join us in exploring all things Wright this week.
...more
---
Happy anniversary! This month the Vernon Economic Development Association (VEDA) is celebrating its 10th year of coordinating economic development in Vernon County. In June 2007, VEDA hired Sue Noble as its first executive director to work with a group of community leaders and business executives from throughout our county who saw the need to create economic wealth and prosperity while preserving our rural Vernon County lifestyle.
...more
---
Winneshiek County Habitat for Humanity (WCHFH) board members and friends recently joined partner family Holly Dahl and her daughters Deanna and Savannah in Hesper to dedicate the 30th WCHFH home and take part in an entertaining game of vintage baseball.
WCHFH began the event by dedicating its latest home, a conversion of the Hesper Friends Church. The former church is now a home for the Dahl family. Following the dedication ceremony, a vintage baseball game featuring the Decorah Driftless Dodgers against WCHFH board members and friends took place, with the Decorah Driftless Dodgers claiming the win.
Founded in 1992, WCHFH has built 30 homes throughout Winneshiek County to date. The organization works in partnership with low-income working families to help them secure decent, affordable housing.
...more
---
Rife with statistics and information derived from various studies, Taftsville author Tim Traver's Lost in the Driftless: Trout Fishing on the Cultural Divide is not exactly breezy summer reading. Yet Traver's scholarly account of his months spent in the Driftless region of southwest Wisconsin — an area where politically charged undercurrents flow within its pristine waters — contains brilliant imagery and enough humor and discourse that it's easy to get lost in...
...more
---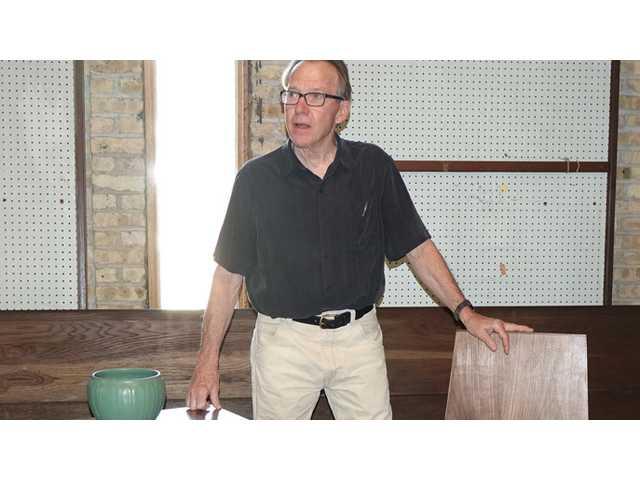 One of the most famous people to have hailed from the Driftless Area, Frank Lloyd Wright has a milestone birthday today, June 8. The date marks the beginning of many different celebrations and events throughout the state and beyond in honor of the famous architect.
It was 150 years ago that Wright was born in Richland Center to William Cary Wright and Anna Lloyd Jones. He went on to spend much of his youth in Madison, attending Madison High School and the University of Wisconsin-Madison. Although he did not graduate officially, Wright was granted an honorary Doctorate of Fine Arts from the University in 1955....
...more
---
With their clean, horizontal lines and open floor plans, many Frank Lloyd Wright buildings still feel modern today — a testament to the ingenuity and staying power of America`s most famous architect, born 150 years ago June 8.
The prolific pioneer of organic architecture built in 36 states as well as Canada and Japan before he died in 1959, a few weeks shy of 92....
...more
---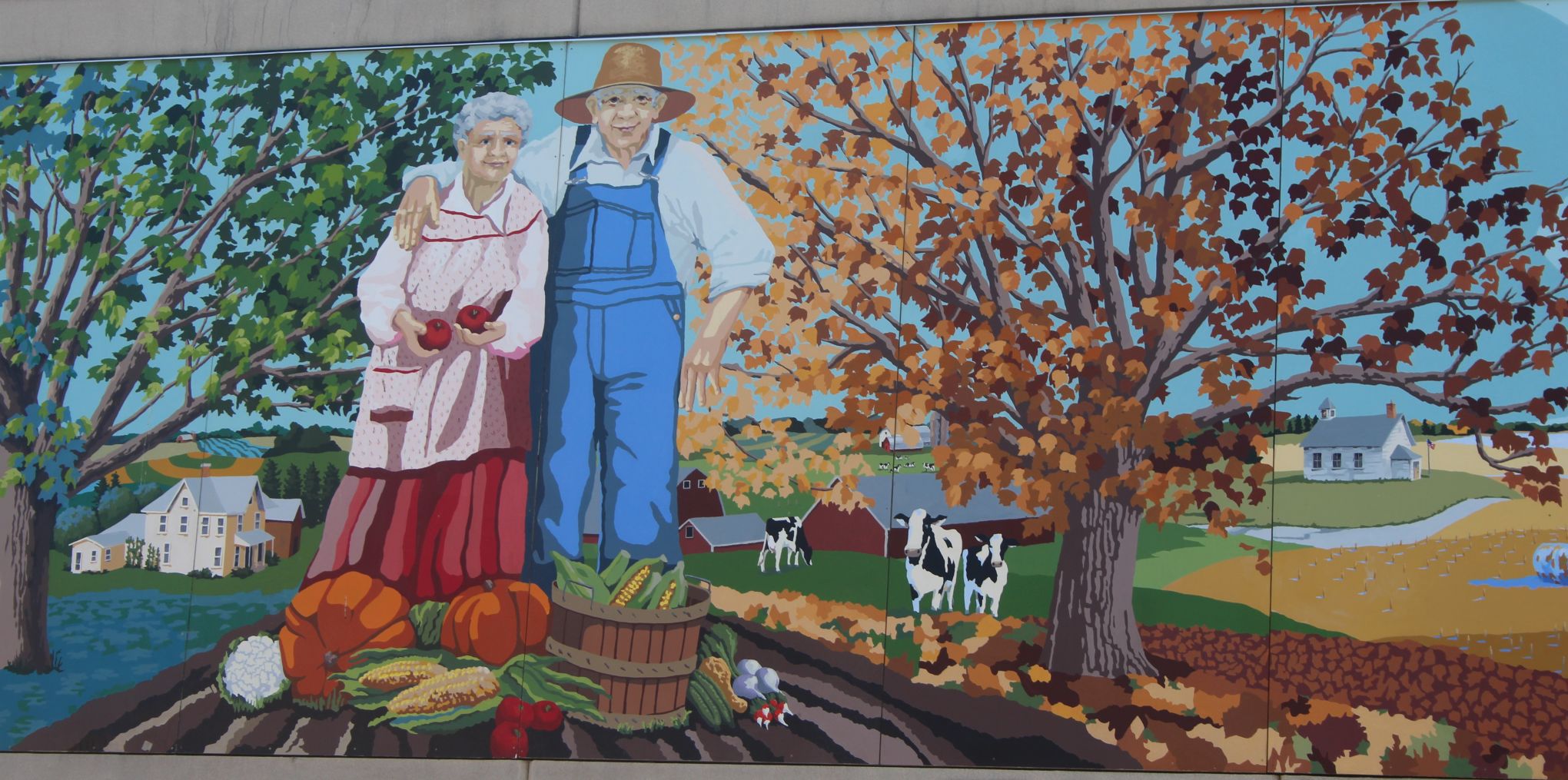 Murals bring a colorful accent to a cityscape, and Viroqua has several.
The Viroqua Community Mural facing the Western Technical College parking lot was one of the first murals in the city. Installed in 1997, it was made possible by a grant from the Wisconsin Arts Board and support from Viroqua Partners (VCMSC). The 8-by-96-foot mural was created by more than 150 community volunteers under the direction of volunteer artist Karen Innis. The mural depicts a cycle that moves from youth, spring and morning to age, winter and night...
...more
---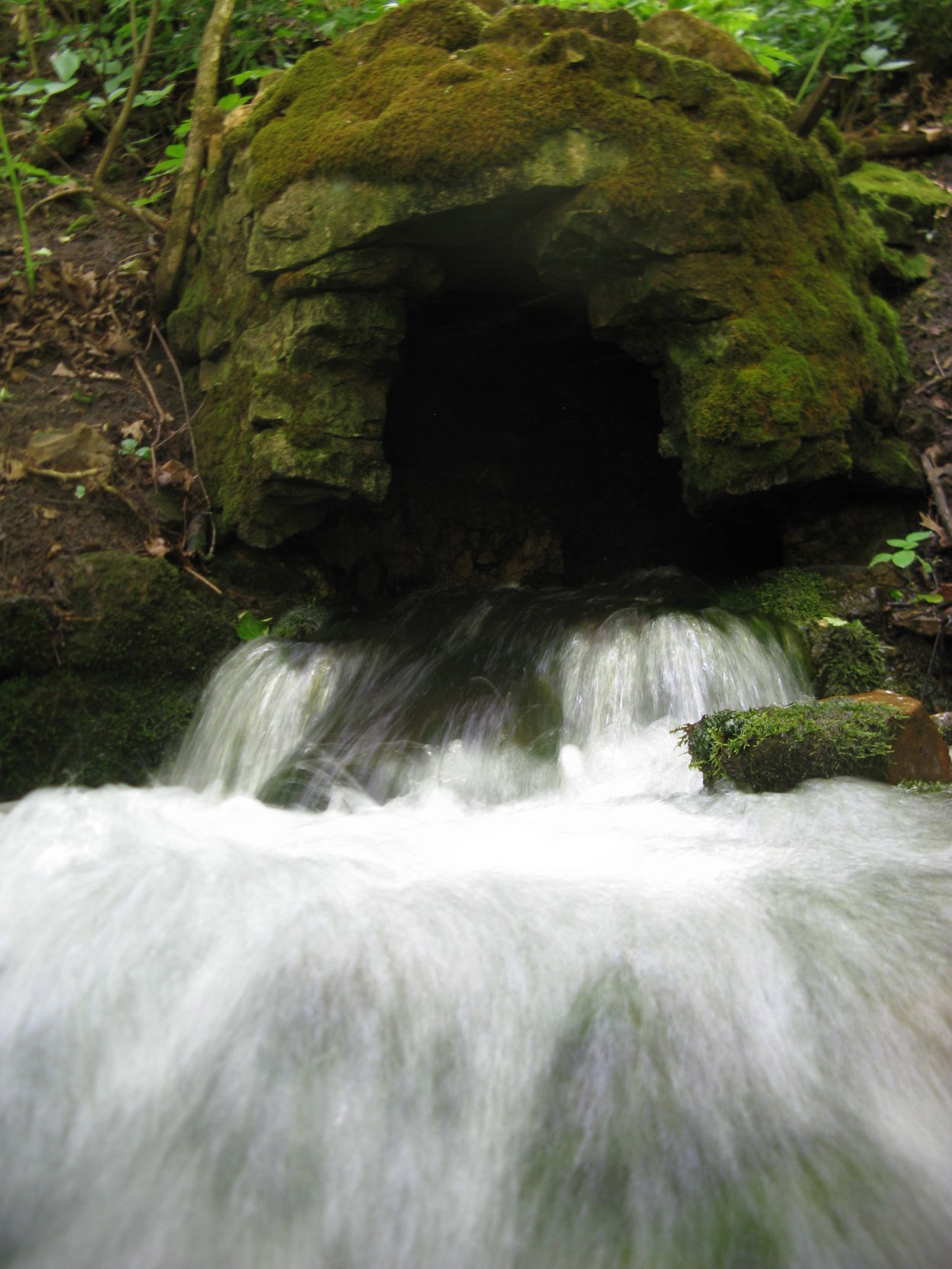 Vernon County is a playground for people but plants and animals also find the Driftless area accommodating and comfortable. Check out the threatened Cherrystone Drop snails that are found in only a dozen counties, including Vernon — if you can find them.
"They are the size of a pea," Wisconsin Department of Natural Resources Conservation Biologist Thomas Meyer said. "They are kind of throwbacks to the ice age." They live on north-facing slopes in cool places...
...more
---
Sponsors
...more
---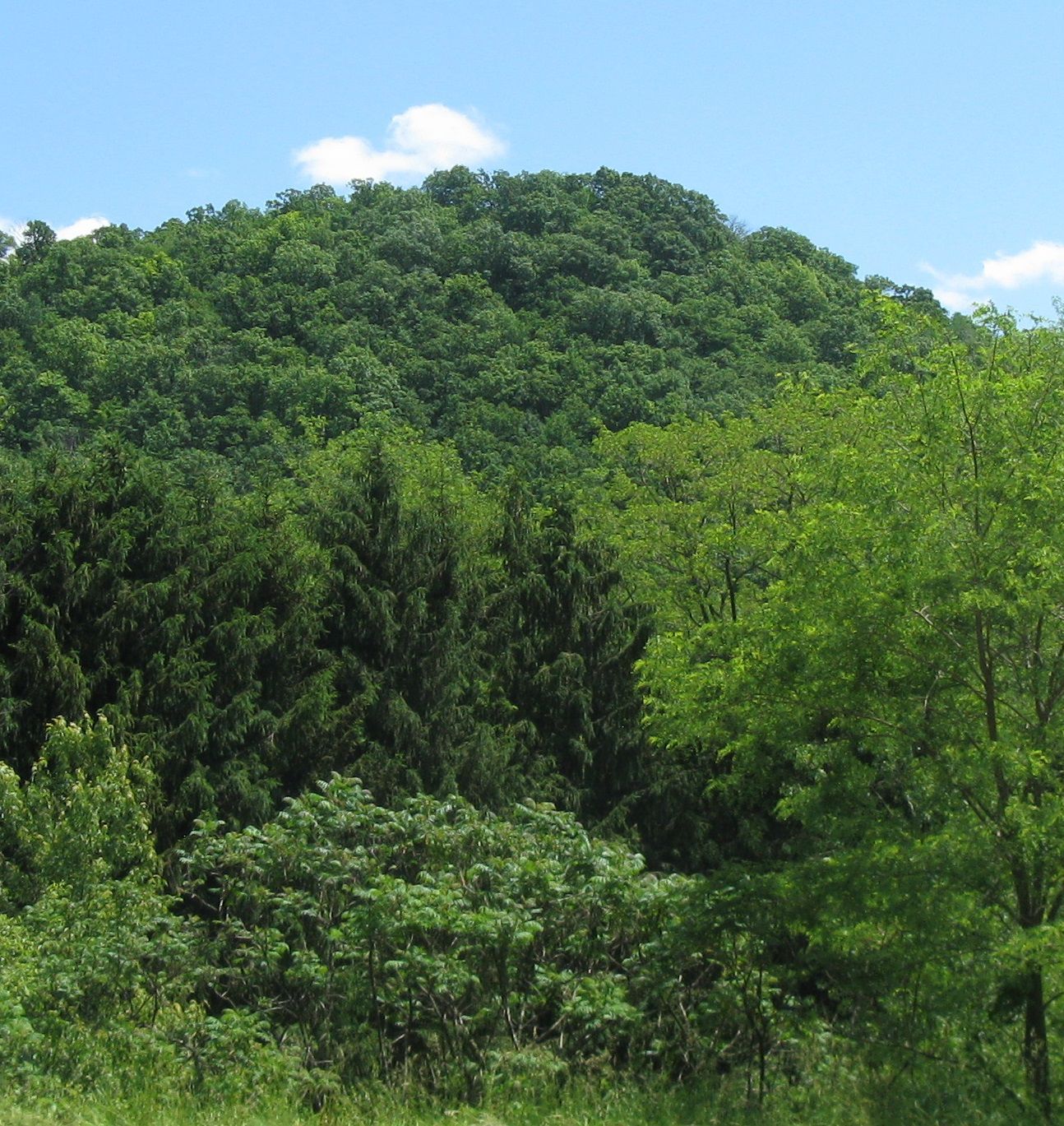 People take pride in the Driftless region, as they should. While the glaciers bypassed the area, if you are reading this you did not and likely for good reason.
Maybe it's the scenery that sucked you in with beautifully carved river valleys and lovely ridgetop views. Maybe it's the people or the way of life. It's probably all of this. Vernon County offers an energy unlike others.
Some backroads see more horses and buggies than motor vehicles. Places like Driftless Music Gardens, Driftless Books and Music and numerous establishments across the county provide outlets for live music. For a county with the 42nd lowest population of the state's 72 there is a wealth of music — more so than many bigger counties...
...more
---
TREMPEALEAU — Erik Thomsen was picking apples at Ecker's Apple Farm when he decided to ask one of the orchard's owners about a bluff on the property.
Thomsen, of Ku-Le Region Forestry in La Crosse, had been involved in several bluff prairie restoration projects in the region, so he tracked down Simon DeGabriele, who owns the farm along with his wife, Jessica Ecker, and Jessica's sister, Sara, to see if he was aware of the landscape's significance.
"I had to talk to the owner because I had to find out if they knew what they had going on up there," Thomsen said during a Trempealeau County bluff prairie meeting at Ecker's Apple Farm June 21. "I just kind of put the bug in Simon's ear, and about a year later he gave me a call and asked me to come out and take a look and see what we can do."...
...more
---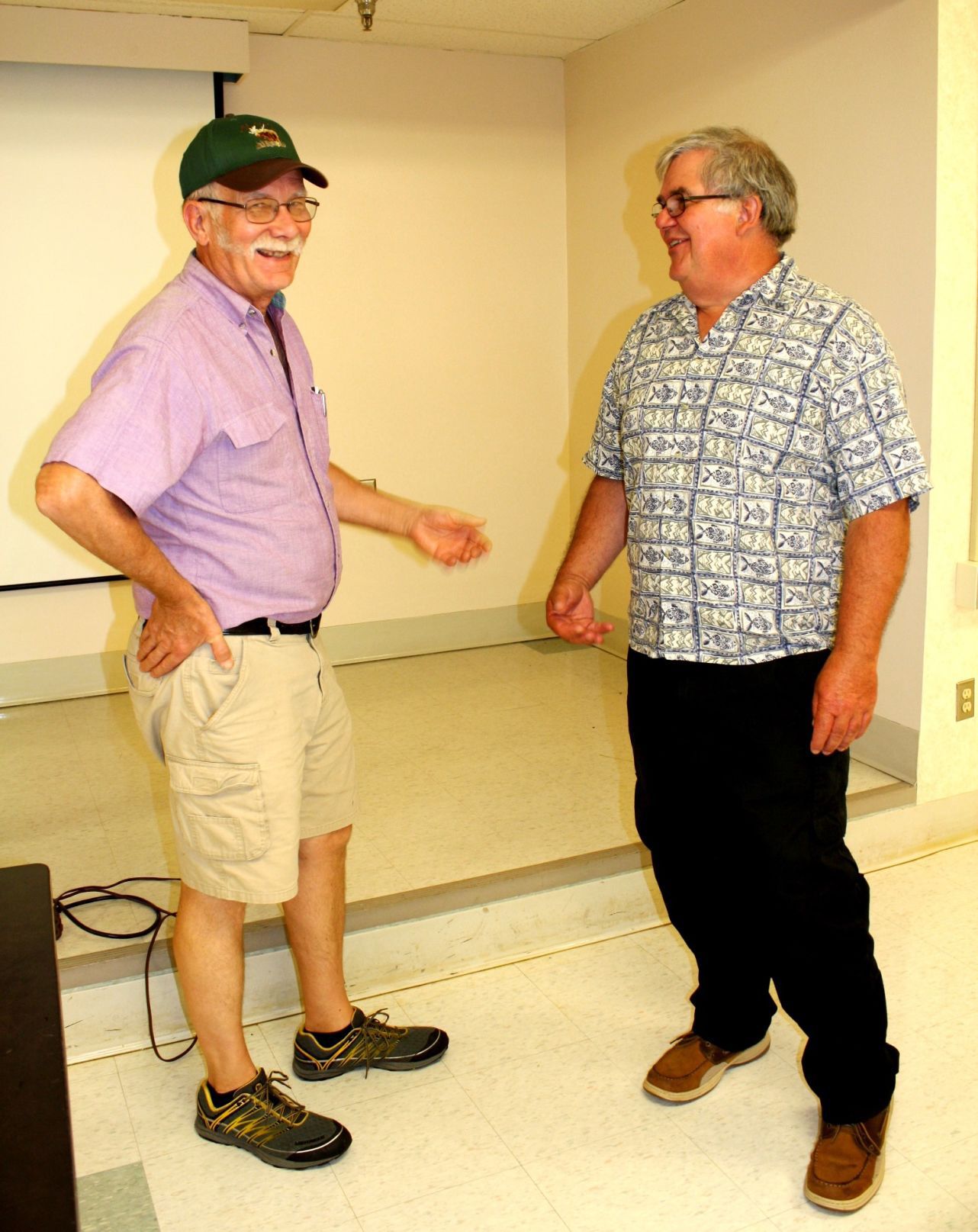 Anglers looking for diverse fishing experiences would do well to consider the Black River and its tributaries. The Black River watershed has a wide variety of fish species to entice fishermen and women of any age.
"The Black River corridor in Komensky and Adams (towns) have some of the highest biological diversity in the region," said Pete Segerson, former fisheries technician and fisheries operations supervisor with the Wisconsin Department of Natural Resources. "There are more than 70 species of fish in the Black. The Black River drainage also has many tributaries that are high quality brook trout streams."...
...more
---
I guess the bottom line is that I want my beer to taste like, well, beer, meaning the straight-ahead golden lagers I grew up drinking in Iowa in the '70s: Schlitz, Storz, Hamm's, Grain Belt, the occasional and much-relished Coors—you get the gist.

These days my go-to beers are a couple of eminent Wisconsin brews, Leinenkugel's (the original, I mean) and Point Special Lager, although I'm also partial to Spotted Cow, a yeasty craft ale from the much-honored New Glarus Brewing Co. on the edge of the Driftless...
...more
---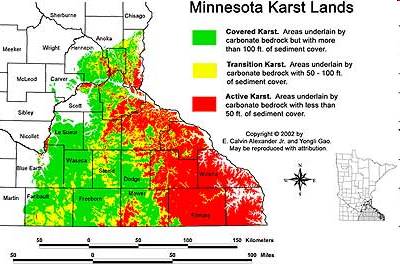 Have you ever wondered what goes on beneath your feet as you walk on a sidewalk, a prairie, forest, or field? In Southeast Minnesota, we live in a spectacular and ancient landscape. Meandering streams shape our hillsides. Larger rivers cut through the bluffs as water continues its path of least resistance to the Mighty Mississippi. The flowing waters we see today and the water from the receding glaciers that once surrounded the driftless region have sculpted the bluffs, cliffs, and prairies that help represent our home....
...more
---
When you think of the National Trout Center in Preston, you probably think of fly fishing, but there's so much more to it than that. Program Director Kelsey Hoffman and Office Coordinator Annie Lewis both began working at the center on April 1 and are excited to watch it grow...
..."I walked into this place not really knowing what it is all about," Lewis said about her new position. "I had this notion that it was just for people who wanted to learn how to fly fish. That's not true. It's for anyone who wants to explore the world of trout and for anyone who wants to learn more about this driftless area we live in."...
...more
---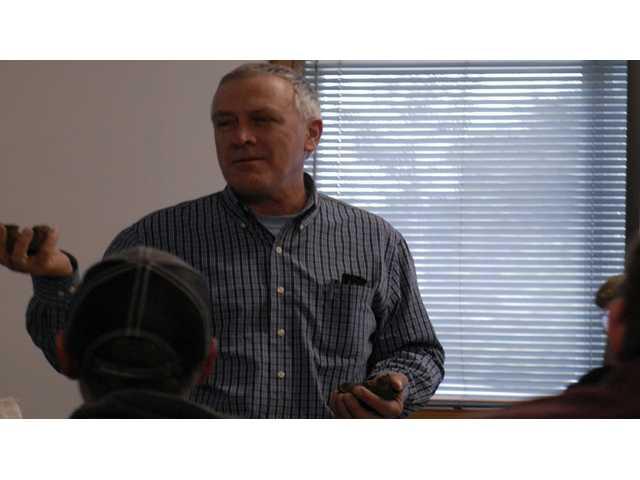 Ben Wojahn, Vernon County Land Conservation Department (LCD) Conservationist, opened the May 20 cover crop education event held at the Mt. Sterling Village Hall, with some jokes for the 50 farmers and conservation experts present.
"We've solved our erosion problems up in Vernon County, so we have to come down here to Crawford to help you solve yours," Wojahn joked.
All joking aside, Wojahn was quick to acknowledge Crawford County Conservationist David Troester and Grant County UW-Extension's Ted Bay for the trailblazing cover crop program they are pioneering in Crawford County.
The Crawford and Vernon County LCDs, USDA NRCS, UW-Extension, Valley Stewardship Network, Youth Initiative High School, the Wallace Center, the Pasturing Project, Driftless Sustainable Farming Association, the National Wildlife Federation, and the U.S. Fish and Wildlife Service sponsored the event....
...more
---
In early May, the Evelyn Sweasy Charitable Fund contributed more than $260,000 toward the restoration of the Barn Bluff Trail Head. The generous contribution is not the first time philanthropy has intervened to ensure Barn Bluff`s public status....
...more
---
Jason Randall`s near perfect extraction of me from the baggage claim area at O`Hare was something to see.
I was at the curb a scant few minutes before he drove up, loaded my duffle bag and whisked me out to his farm near Woodstock, Ill. After a much needed afternoon nap, we headed out to his friend`s bass pond in the early evening. Catching bluegills and bass was a necessary restoration of sanity after flying the friendly skies. All of it was in preparation for our departure to Wisconsin`s Driftless Area the next morning....
...more
---
TREMPEALEAU, Wis. (AP) — Danielle Benden has been uncovering artifacts in the Trempealeau area for the past decade, but the thrill of the find never gets old.
"It`s still equally as exciting now," said Benden, archaeologist and co-owner of Driftless Pathways with husband and fellow archaeologist Robert "Ernie" Boszhardt. "Digging up something in the dirt that hasn`t been touched in 1,000 years ... it`s an amazing feeling."
It`s an experience Benden has shared with many over the course of the Trempealeau Archaeology Project, a community-wide quest to uncover the history of the Mississippians, a group of 100 to 200 people who left the city of Cahokia, a 2,200-acre tract near what is now St. Louis and paddled 500 miles up the Mississippi River to the "Mountain Whose Foot is Bathed in Water,"...
...more
---
MACOMB/MOLINE, IL – A unique fly fishing trip by students of Western Illinois University Recreation, Park and Tourism Administration Associate Professor Rob Porter in May was the culmination of a semester of classroom learning about incorporating stream ecology into the practice of fly fishing....
....The class of 14 students visited the Lanesboro Fish Hatchery of the Minnesota Department of Natural Resources (DNR) and the National Trout Center in Preston, MN. As part of the class, students were given access to private streams and worked with instructors from major corporations who joined the class throughout the trip to teach them fly fishing techniques. The class is a unique combination of generous people who come together to make the class unique....
...more
---
For the second year in a row, I drove up last week to Decorah to take part in the five-day singing/dancing/playing/connecting/heart-opening gathering that is the Village Fire Singing Festival, set in the valleys of the enchanted Driftless area.
Oh, morning, what a joy, walking through you in the sun.
Village Fire offers a dynamic window on Community Sing, a movement that is growing nationwide, renewing oral traditional ways of building connection and nourishing the soul through song. Singing offers so many benefits — oxygenating the blood, lifting the spirits, bringing "bonding" hormones to the brain. But Village Fire is about more than just singing. The festival offers a chance to embody a deeper sense of community, something many of us long for...
...more
---
The Black River is known for its recreational opportunities and among those is fishing. The Black River's watershed provides anglers with a variety of fish species from trophy to pan fish.
The fish and fisheries of the Black River will be the topic of the June 14 Friends of the Black River meeting. The meeting will be held in the Jackson County Bank community room beginning at 6:30 p.m...
...more
---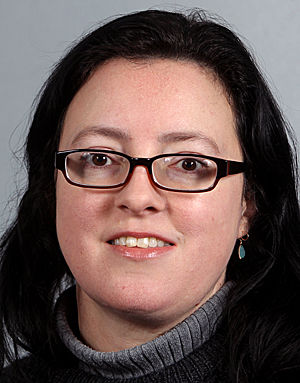 Summer is here, and I'm trying to cram as many fun activities into the next three months as possible.
The area farmer's markets have started, and I feel blissful. Truly one of the best parts about the Driftless Region is the proximity to local farms. I love to ride my vintage-looking coaster bike to the farmer's market and get dinner from one of the food trucks. If you are looking for ideas to use up your farmer's market or home-grown garden produce check out the "Gardener's Community Cookbook" by Victoria Wise.
At least once a summer we like to do a backyard campout. We set up the tent and cook something on the grill or fire pit. I'm checking out "The Outdoor Adventure Cookbook" by the Coleman company for new recipes to try. Queso cooked in an iron skillet sounds just about perfect or perhaps Mocha Toffee Cake cooked in a Dutch oven. But it's hard to beat the simplicity of a s'more....
...more
---
Brand Identity for the Region and our Products

"Driftless" Recognition at the State, Regional, National, and Global Levels

Regional Economic Development, New Jobs, and Training

Sustaining and Growing the Businesses in the Region

Tourism - Including Ag, Sports, Nature and Eco Tourism

Promoting Special Events in the Region

Agriculture - Especially Organic Farming and Products

Land Conservation and Use in the Driftless

Environmental Issues that impact the Driftless Region

A Legislative Agenda that supports the region in four States
Resource conservation, innovative industry, agriculture, healthy communities, and sustainable growth in the region
Highlight the venues, events, and activities throughout the region year around
Showcase opportunities for investors, visitors and residents unique to the Driftless Region


- Ken Harwood and Julia Henley
Our Other Publications:

...more
---
This map, is a great illustration of the entire region we want to share with our readers. In the coming months, we will be expanding our channels, adding original content to motivate and inspire, and illustrate with you the opportunities for community, business, and personal growth that exist in this special and unique region.


Look for announcements in coming issues as to how you too can get involved with this regional initiative for sustainable and vibrant growth and perspective on how we can best share "our common ground".


...more
---
Wisconsin
The majority of the Driftless is found in Wisconsin and involves all or part of
Pierce
,
Pepin
,
Eau Claire
,
Buffalo
,
Trempealeau
,
Jackson
,
La Crosse
,
Monroe
,
Juneau
,
Vernon
,
Richland
,
Sauk
,
Crawford
,
Iowa
,
Dane
,
Green
,
Grant
, and
Lafayette
counties.
La Crosse
is the principal urban area wholly within the Driftless Area, while the larger
Madison
`s far western suburbs are located on the edges of the area. The most rugged part of Wisconsin`s Driftless area is also called the
Ocooch Mountains
.
Media...
http://www.wiproud.com/

http://www.piercecountyherald.com/
http://www.leadertelegram.com/
Eau Clair
http://www.winonadailynews.com/
http://www.winonapost.com/
http://www.weau.com
http://lacrossetribune.com/jacksoncochronicle/
http://lacrossetribune.com/
http://www.spartanewspapers.com/
http://www.wrjc.com/category/local-news/
http://lacrossetribune.com/vernonbroadcaster/
http://www.swnews4u.com/
https://www.co.sauk.wi.us/news
http://www.thedodgevillechronicle.com/
http://themonroetimes.com/index.asp
http://www.grantherald.com/
www.myrjonline.com/
Minnesota
The counties involved include all or part of
Dakota
,
Goodhue
,
Wabasha
,
Winona
,
Olmsted
,
Dodge
,
Houston
,
Fillmore
, and
Mower
. Aside from the southeastern suburban sprawl of the Twin Cities,
Rochester
is the main urban area. Additional communities include
Red Wing
,
Winona
,
La Crescent
and
Caledonia
.
Iowa
It encompasses all of
Allamakee
, and part of
Clayton
,
Fayette
,
Delaware
,
Winneshiek
,
Howard
,
Dubuque
, and
Jackson
counties.
Dubuque
is the only metropolitan area.
Illinois
The portion is confined mainly to
Jo Daviess County
; western parts of
Carroll County
(the
Mississippi River bluffs
characteristic of the Driftless terminate around
Savanna
) and a tiny portion of northwest
Whiteside County
are also included.
La Crosse Events
Winnona Events
Rochester Events
Platteville Events
Prairie du Chien Events
Sparta Events
Mineral Point Events
Spring Green Events
Decora Events
Dubuque Events
Lake City Events
Onalaska Events
Dodgeville Events
Galena Events
Richland Center Events
Boscobel Events
Viroqua Events
Trempeleau Events
Lansing Events
Stockholm Events
Driftless Organizations
MOSES, 7 Rivers, Prosperity SW, Mississippi Valley Conservancy, River Arts Alliance, Kickapoo Reserve, Driftless Wisconsin
...more
---
Your
support
keeps the Driftless Region in front of thousands of visitors, 500+ Media Outlets, hundreds of state, local and federal officials representing the region and others interested in the Driftless Area.
Our Goals
are to support the Driftless Region by sharing news, events, and ideas with 10,000 subscribers every week.
We will link to your business for free here.
While we would love to upgrade this with your logo, Yelp, Facebook, and LinkedIn links and count you among our supporters, it is is most important that you are listed, and like I said that is FREE.
Make sure your business, community or organization is represented.
You may search for them here
. Not listed add them
here
.
...more
---
Looking to add some "extra" to the "ordinary" in your getaway? Venture beyond the expected to find these brag-worthy local secrets in southwestern Wisconsin, from the best pie you`ve ever had to a converted caboose "cottage" to a river where you can see the best of wild Wisconsin.
...more
---
I`ll confess: I`m completely obsessed with southwest Wisconsin. I think it is underrated for a lot of reasons but mainly, because the Driftless Area`s unique and gorgeous terrain makes this region worthy of national attention. With a beautiful landscape comes a plethora of equally awesome events, festivals, parks and activities worth experiencing. Get your highlighter handy…I`m throwing 10 creative ideas at you to discover in Wisconsin`s stunning southwest corner!
1. Fish it, canoe it or tube down it — however you decide to relish Wisconsin`s largest river, you`ll be awestruck by the remarkable views and diverse wildlife that surround you on the Lower Wisconsin River.
2. Pack a picnic lunch, throw on a decent pair of hiking boots and tour the parks! Our top picks: Blue Mound State Park in Blue Mounds, Blackhawk Lake Recreation Area in Highland, Governor Dodge State Park in Dodgeville, and Wyalusing State Park in Bagley.
3. Amidst the southwestern Driftless Area`s steep hills and valleys are 345 lakes. This is definitely a fisherman`s dream destination. The abundant trout inhabiting cold-water streams in Richland and Vernon counties specifically entice fishing aficionados from afar.
4. Up for a unique history lesson? Take a step back in time and visit Villa Louis in Prairie du Chien. Our crew recently spent some time filming at this former Dousman residence, one of the official Wisconsin Historic Sites. If you still haven`t satisfied your hankering for history, go experience Stonefield Historic Site in Cassville for a look into a rural community at the turn of the 20th century as well as the home and estate of Wisconsin`s first governor at Nelson Dewey State Park.
5. A sightseeing staple here in Wisconsin, the House on the Rock in Spring Green definitely lives up to its fun and eclectic reputation. This former vacation home — created by Alex Jordan–is now enjoyed by thousands every year as an attraction, inn and resort.
6. Norskedalen is a nature and heritage center located in Coon Valley. Take a stroll on the six miles of nature trails and enjoy the guided tours of the restored Bekkum pioneer log homestead and the Skumsrud Heritage Farm, which features an open-air museum with 12 different types of Norwegian immigrant log houses.
7. When in Wisconsin, do as the Wisconsinites do: appreciate cheese. Stop by Cedar Grove Cheese in Plain for a tour of the facility and a deep dive into the art of cheesemaking.
8. For the adrenaline junky, we`ve got just the thing. Southwest Wisconsin isn`t just nature walks and sightseeing, the area can really get your heart pumping too. Get an adrenaline rush when you climb on-board a small plane to enjoy 60 seconds of free fall over Lancaster with Airborne Skydiving.
9. An impressive line-up of country music stars will touch down in Wisconsin`s second oldest city for Country on the River, August 6-8, 2015. Artists such as Alabama, Jake Owen, Dierks Bentley and Big and Rich will make this music fest a must.
10. Journey to Platteville`s downtown historic district and check out the Mining Museum - Rollo Jamison Museum for an underground tour of the 1845 Bevans Lead Mine. Psst…while you`re in the area, be sure to climb the world`s largest M for a spectacular view of southwest Wisconsin.
...more

Ken Notes: We are keeping this article in the news for a while. Please share...
Start Week: 22 - Query String:SELECT * FROM driftless WHERE `issue` > 22 and volume = 5 OR `issue` > 90 ORDER BY sortorder